Artificial Intelligence
Unleash the Revolutionary Power of Artificial Intelligence: Renew, Simplify, Transform!
Let's Talk
UNLEASHING THE POTENTIAL OF AI-POWERED CUSTOMIZED SOFTWARE SOLUTIONS!
AI-Driven Personalized Solutions - Unleashing the Potential of Your Ideas!
Experience Lightning-Fast AI Performance, Seamless Offline Capabilities, and Immersive User Experiences, All Tailored to Your Unique Needs.
From Fiction to Reality: Embrace the Ever-Present Power of Artificial Intelligence. Whether it's Siri, autonomous vehicles, or voice assistants, AI advancements are accelerating. Today, artificial intelligence (AI) pervades nearly every software application, often unnoticed by users. At its core, AI aims to simulate human intelligence, enabling autonomous learning in machines and systems. It can independently solve problems and outperform humans in specific tasks. With our expertise and continuous research, we are here to empower you in crafting your own AI solutions.
Unleash the Versatility of Artificial Intelligence. From performing tasks requiring human intelligence to revolutionizing medicine with surgical robots and optimizing production lines, AI's applications are vast and widely accepted. AI has long been a part of gaming, triumphing in board games like checkers and chess. Moreover, it excels in early-warning systems, automated text detection, and fraud prevention. Explore the boundless potential of AI and harness its myriad possibilities to transform your own business.

Data, Innovative Storage, Unleashed Processing Power
The triumphant journey of AI relies heavily on three crucial factors: data, storage capacity, and processing power. The foundation of successful AI lies in handling massive volumes of data. With expanding storage capacities and exponential growth in processing power, AI can embrace increasingly intricate procedures and configurations.

We Persist In Advancing
Our dedicated research and development division empowers our team to continuously generate novel ideas and explore potential applications. As the field of artificial intelligence evolves, new horizons of opportunity unfold for your business. Leverage our extensive research and experience gained from diverse projects to your advantage, driving innovation and growth.

Architecture For An AI Ecosystem
Every AI system relies on a well-defined model that captures the precise questions and challenges at hand. Each unique use case demands a tailored approach, methodology, and workflow. Our seasoned teams are here to assist you in designing your AI project, collaborating closely to determine the precise potential applications for your business. Together, we can unlock the full power of AI.
Advanced Machine Learning Algorithms
Natural Language Processing (NLP)
Computer Vision and Image Recognition
Predictive Analytics and Forecasting
Cognitive Automation and Robotic Process Automation (RPA)
Deep Neural Networks and Deep Learning
Sentiment Analysis and Emotion Recognition
Intelligent Virtual Assistants
Data Mining and Pattern Recognition
Adaptive Decision-Making Systems
Advanced Features
Empowering, Adaptive, AI Solutions Customized to Your Unique Requirements
Robust AI Solutions, Tailored Precisely to Your Unique Requirements
Advanced Machine Learning Algorithms
Harness the potential of cutting-edge machine learning algorithms to uncover patterns, make accurate predictions, and derive valuable insights from complex datasets.

Natural Language Processing (NLP)
Enable machines to understand and interpret human language, facilitating tasks such as sentiment analysis, language translation, and chatbot interactions.

Computer Vision and Image Recognition
Empower AI systems to perceive and analyze visual data, enabling applications like object detection, image classification, and facial recognition.

Predictive Analytics and Forecasting
Leverage AI-driven predictive models to anticipate future trends, optimize decision-making, and drive proactive strategies for your business.

Cognitive Automation and Robotic Process Automation (RPA)
Automate repetitive tasks, streamline workflows, and enhance operational efficiency with AI-powered cognitive automation and RPA solutions.

Deep Neural Networks and Deep Learning
Dive into the realm of deep learning and unleash the power of deep neural networks, enabling sophisticated learning, feature extraction, and complex pattern recognition.
We Embrace State-of-the-Art Technologies and Industry Best Practices, Continuously Advancing Our AI Solutions. Proactively Optimizing and Innovating Your AI Systems, We Ensure They Stay at the Forefront of AI Evolution.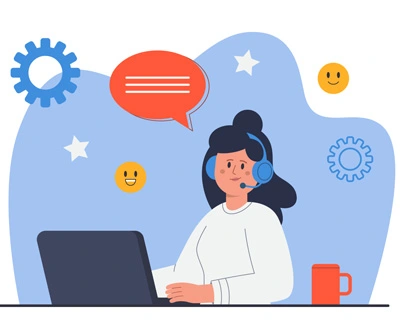 Dedicated to Dedicated
As a Dedicated customer, enjoy direct support from our specialists who know our most powerful app development. Call the exclusive support line.